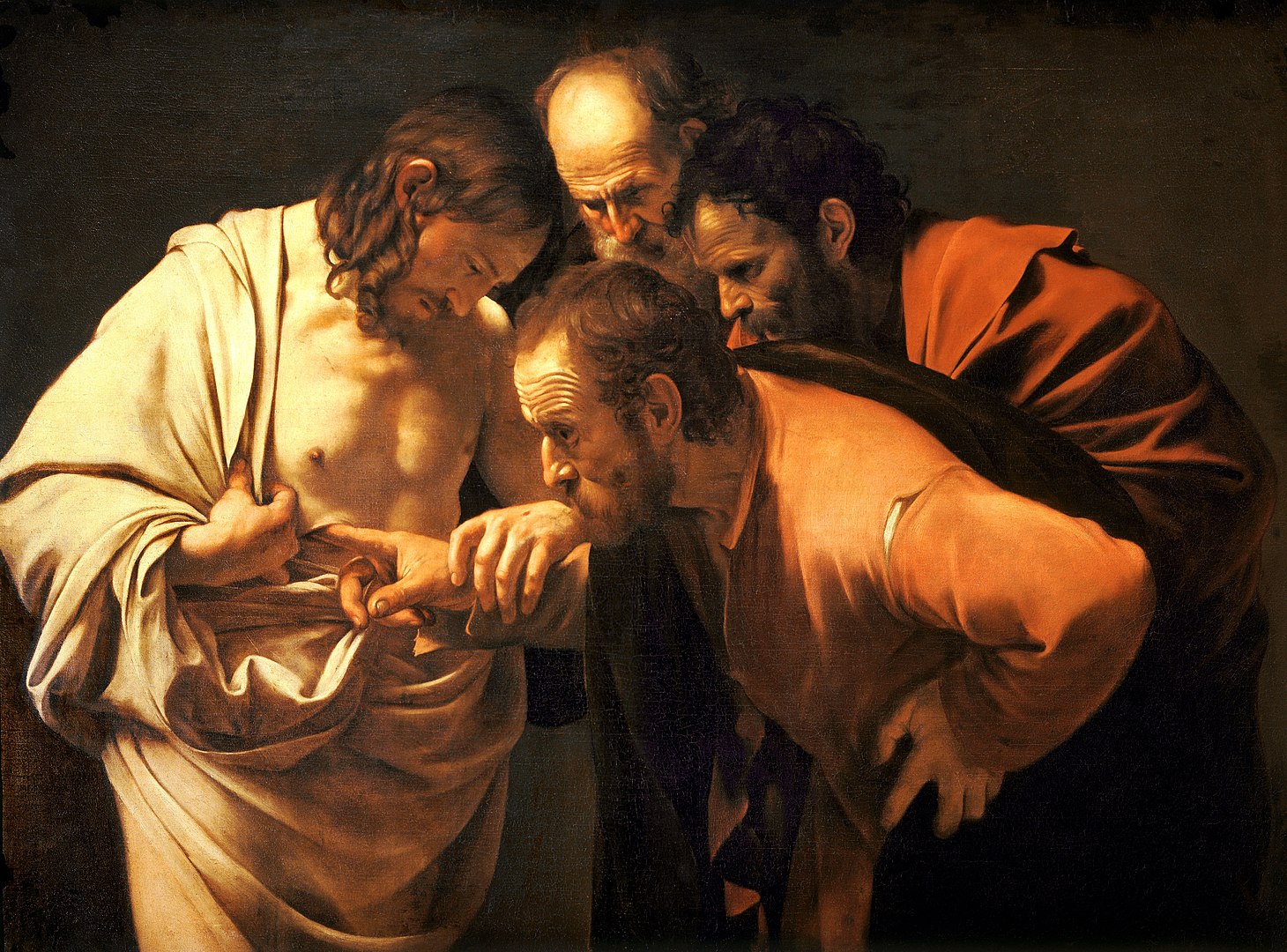 FR DAVID WRITES
Happy Easter! This past week has been the Octave of Easter, and today we celebrate the Octave Day itself. This Second Sunday of Easter is like another Easter Sunday. This great day is rich with meaning and has held a wonderful place in the liturgy from the earliest times. It is known from antiquity as Dominica in Albis (Depositis) meaning 'the Sunday in white' and 'in which the white is put away'. This refers to the white baptismal garments of the newly baptised from the Easter water. In the Gospel we hear how Jesus appeared again a week later to the apostles, on the eighth or octave day. Today is also known as Quasimodo from the first Latin words of the Entrance Antiphon. Whether we have just been baptised or were baptised many years ago, we are called to be like new-born infants who are able to rise again with Christ our Risen Lord. We send many thanks and best wishes again, and thanks for the lovely Easter cards and gifts we have received. The wider Season of Easter lasts until Pentecost Sunday.
CONGRATULATIONS
Congratulations to Brad, Toby and Ryan who received Sacraments of Christian Initiation here at the Easter Vigil last weekend.

THANK YOU
Thank you for giving generously to the collections for the Holy Places and Easter.

FIRST HOLY COMMUNION
Please keep in your prayers the children of our Parish who will receive their First Holy Communion next Saturday here at 11.30am & 2.30pm.

FIRST HOLY COMMUNION REHEARSALS
Parents are reminded of their rehearsals on Thursday 28th April
11.30am Communion Mass—rehearsal will be at 5.20pm
2.30pm Communion Mass—Rehearsal will be at 6.20pm

CONFIRMATION 2022
The next meeting for Candidates will take place on Saturday 7th May at 4.50pm followed by Mass at 6pm.

CONFESSIONS NEXT SATURDAY
Please note that there will be no confessions here next Saturday as we will be celebrating the First Holy Communion Masses at 11.30am and 2.30pm.

HARRY TURLEY RIP
The Requiem will take place at 10 am on Wednesday 27th April.  May he rest in peace

ALAN THOMAS ALLEN RIP
The Requiem will take place at 10 am on Tuesday 3rd May.  May he rest in peace.

AUDREY ALLAN RIP
The Requiem will take place at 10am on Monday 9th May.  May she rest in peace.

FOODBANK NEWS
The foodbank continues to see increasing numbers of people access the support provided; it is a valuable and valued community resource.  The recipients are always very appreciative of the items they receive.  We are very grateful for your continuing support and continue to welcome all donations.
LIVESTREAM
The company who run the livestream are working on the recent technical problems. It should be resolved properly soon. However, Fr David would like to repeat his invitation from last weekend, encouraging those who are able to, to come to church in person. Once fixed, the live feed should now revert to principally being a resource for the housebound.

PAPER SHOP ROTAS
New volunteer rotas available for collection today  -  Thank you

100KM SPONSORED WALK IN AID OF OUR LADY OF LOURDES PRIMARY SCHOOL
Our school turned 50 last year, and to raise much needed funds Tony Frisino, one of the dads, is going to walk 100km from 8th April to 8th May. All money raised will go towards a new library and refurbishment of the caretaker's house. To sponsor Tony please go to https://wonderful.org/fundraisers/454

UKRAINE REFUGEES
Caritas Social Action Network (CSAN) are in close dialogue with the UK Government on responding to the war in Ukraine. Guidance on how Catholic households and groups can support refugees from Ukraine is available on their website, updated as new information becomes available: https://www.csan.org.uk/ukraine/

CATHOLIC PAPERS
The Universe and the Catholic Herald are available by subscription either online or as a paper delivery to your door.  To find out more please call:
Universe:  Michelle on: 0743 661 7650 or email: This email address is being protected from spambots. You need JavaScript enabled to view it.
Catholic Herald:  This email address is being protected from spambots. You need JavaScript enabled to view it. or phone: 020 7082 6529.