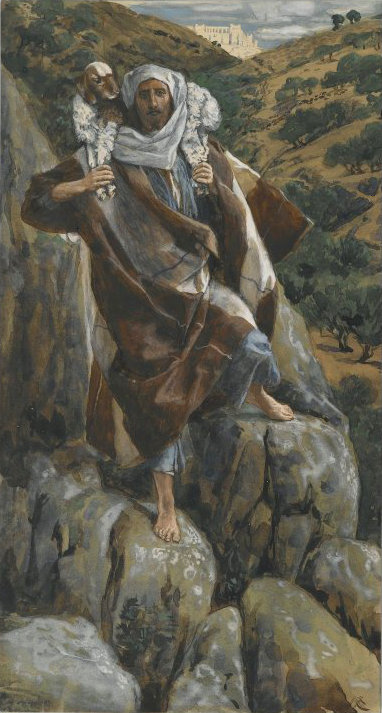 FR DAVID WRITES
On this Good Shepherd Sunday (the Fourth Sunday of Easter) we celebrate that Jesus, our Good Shepherd, is risen from the dead and leads us from death to life. Today we are also asked to pray for vocations to the priesthood and religious life. We also pray for all priests, that they like Jesus, may be good shepherds in their way of life and their ministry. Please pray for Ashley from our parish who will begin his formation for the priesthood in September. If anyone else would like to speak to me about a vocation, please let me know. Finally, next Sunday at 11.15am Mass we will celebrate the Going Forth Mass in thanksgiving for the recent First Holy Communions.
GOOD SHEPHERD SUNDAY
Today is Good Shepherd Sunday and our second collection will support the Priest Training Fund. This fund pays for the priestly formation of men for the Catholic priesthood. There are currently 58 men studying at Allen Hall, 17 of whom are from our own diocese, and two men are studying in Rome, also from our diocese. Last year four men were ordained to the priesthood to serve as priests. The fund also supports the ongoing formation of our priests. Your gift ensures we can provide training for these men Please be as generous as you can. You can use the QR code to make your donation online or visit www.rcdow.org.uk/donations

MAY: THE MONTH OF MARY
May is the month of Mary. Next Sunday, there will be Rosary and Benediction in church at 4pm. Please join us to honour Our Lady and to pray to the Lord for our needs and the needs of the parish.

CATECHISTS FOR FIRST HOLY COMMUNION & CONFIRMATION
Our catechists do a wonderful job in helping children and families prepare for the sacraments. New catechists will be needed for the next Communion and Confirmation programmes.  If you would like to help please leave your name and number with the Parish Office—thank you.

CONFIRMATION 2022
The next meeting for candidates is the Retreat Day on Saturday 14th May 11am—5pm.

AUDREY ALLEN RIP
The Requiem will take place at 10 am on Monday 9th May.  May she rest in peace.

RUPERT RASANAYAGAM RIP
The Requiem will take place at 10am on Thursday 26th May.  May he rest in peace.

ST MICHAEL'S CATHOLIC GRAMMAR SCHOOL—APPLICATIONS FOR YEAR 7
Applications are now being accepted for girls currently in year 5 to sit the entrance tests. Applications can be made through the online system available on our website https://www.st-michaels.barnet.sch.uk/admissions/admissions-2023-24/. Please read the Admissions Policy prior to making an application and provide the original Certificate of Catholic Practice signed by their Parish Priest by the closing date of 4pm on Tuesday 5th July 2022. There are no appointment for the forms—please simply call in to the Parish Office during opening hours. Thank you.

DO YOU ENJOY SINGING?
The choir at the 10 am Mass would like to welcome new members. Being able to read music would be an advantage, but is not a necessity. Please let the Parish Office have your details if you would like to know more.

LOST PROPERTY
There are a huge number of coats and jackets hanging in the parish centre which have been left behind. This week is your last chance to claim back any lost jackets. Please go into the hall and check while you are at Mass this morning.

LIVESTREAM
Unfortunately, the Wi-Fi problems are more complicated than we thought, and we are going to renew the entire internet system. Please be patient as this may take a little longer than initially anticipated.

PAPER SHOP ROTAS
There are new paper shop rotas in the shop today. Thank you for your support!

MASS FOR CARERS AND THOSE THEY CARE FOR
Thursday 12th May,  12 noon at Sacred Heart, 2 Flower Lane,  Mill Hill NW7 2JB for Mass for Carers and for those they Care for, with a buffet lunch in the hall afterwards.  There will be tea from 11am before the mass should you wish to come early.

FOOD BANK NEWS
The food bank continues to support families in our community and all donations are greatly appreciated. We are currently very short of the following products: rice, pasta, tinned tomatoes, chickpeas, kidney beans, sugar and coffee. We are also very short of toilet rolls,  washing powder and all other cleaning products.  Thank you!