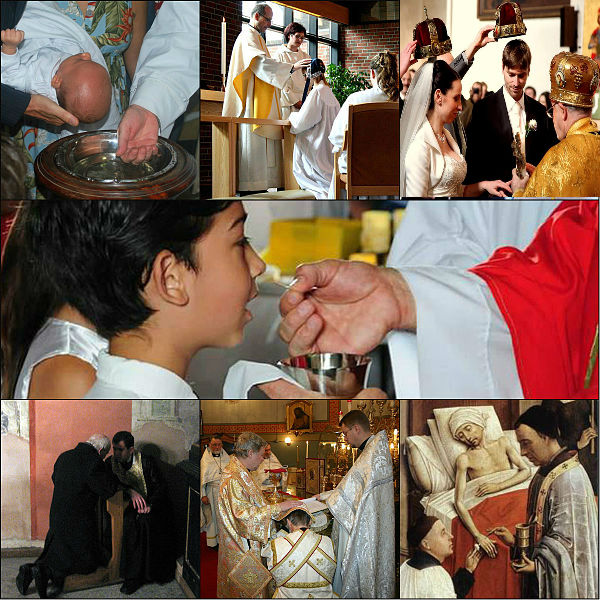 The Seven Sacraments by Jobas - Own work, CC BY-SA 4.0, https://commons.wikimedia.org/w/index.php?curid=42894472
CONFIRMATION CONGRATULATIONS
Congratulations and best wishes to the forty four young people who received the Sacrament of Confirmation here on Friday evening. Thank you to the candidates, sponsors and families. We also thank the team of catechists for helping to prepare the young people, and everyone who helped with the lovely celebration in church, either in preparing or celebrating the liturgy.
NOVEMBER: MONTH OF THE HOLY SOULS
November is the month of the Holy Souls. We will continue our prayers and Masses for the faithful departed throughout the month. Thank you to everyone who helped with the liturgies, prayers, serving, music and reading on All Souls' Day earlier this week.

SPECIAL MASSES THIS WEEK AT ENFIELD & WESTMINSTER
On Tuesday (9th November) we will celebrate the Requiem Mass for the Deanery at Our Lady of Mount Carmel Church, Enfield Town, at 12 noon. All are welcome - please join us if you can.  On Wednesday (10th November) the Cardinal and priests will celebrate the Mass for the Deceased Clergy of the Diocese at Westminster Cathedral, 5.30pm.

NEXT WEEK: REMEMBRANCE SUNDAY
Next Sunday is Remembrance Sunday. The Requiem Mass for the fallen will be celebrated here at the 10am Mass. We will be joined by representatives of our uniformed groups as our Scout Group will be on Parade.

SYNODAL PATH
With the whole Church, we are beginning our journey on this pathway of listening and preparation for the next Synod of Bishops. This week on Friday at 10am Mass we will welcome Rev. Matthew Harbage, Vicar of St Paul's, who will share with us some of his own experiences of the last 18 months. Please do come to listen to his reflection. It will be good for us all to listen to the experience of our neighbours and friends at St Paul's. At that occasion, we will also celebrate the Mass for the beginning of the Synodal journey.  Thank you to the Bernadette Club for hearing about the Synodal Path last Thursday.

SICK AND RETIRED PRIESTS
Today's second collection is for the Sick & Retired Priests' Fund. Please give generously and help ensure our sick and older priests are financially supported, having given us a lifetime of dedicated service. We can ensure they have peace of mind during their senior years, when they may be facing failing health and declining mobility. Please give generously using the envelopes in the church, online (at www.rcdow.org.uk/donations) or use the QR code on the poster.  Thank you.

CAFOD HUNGER LUNCH
You are invited to a Hunger Lunch on Thursday 11th November at 12 noon in the Parish Hall to show solidarity with people in developing countries who have little to eat, and in connection with the end of COP26.  It is free but any donations will go to CAFOD.

HEALTH & SAFETY
Please continue to use the QR code to sign in on your smartphone. You are encouraged to wear a face covering but this is not mandatory. Please be respectful of those who may want to keep a distance. Thank you.

NEW SOUTHGATE PARISH FOOD BANK
The food bank is now operating from St Paul's CoE Church Hall on Wednesdays 2.30pm-4pm. No vouchers or referral needed. Tea/coffee at the same time at the 'World Café'.

FOUR SEASONS DRAW
The Autumn Draw will take on Sunday 14th November after the 10 am Mass —if you would like to take part, the fee is £3 per ticket per quarter.  All funds must be received in advance of the draw.  Please ask in the office for an application form.  Thank you.

PARISH SHOP
Christmas cards and other items available.  Open from 9.15—12.30 pm Sunday morning.

CHRISTMAS  MARKET
A Christmas Market will be held in the Parish Hall on Sunday 21st November after the first three morning masses.  We will have a great selection of Christmas gifts as well as Christmas raffle.  Do come along and join us for coffee and mince pies.  All money raised will go to help Parish Funds—Thank you.

RED WEDNESDAY - 24th NOVEMBER 2021
As a result of targeted violence, millions of Christians are now displaced or refugees.  #RedWednesday is your chance to say 'NO' to Christian and religious persecution and to use your voice to call for change. This year has a special focus on kidnap, forced marriage and conversion, and other crimes against Christian women and girls. On the 24th November, there will be Adoration after the 10am Mass in our parish.
Aid to the Church in Need have organised Mass and other events in Westminster Cathedral from 5-9:30pm (also online). All are welcome. Wear something red! For more information about Red Wednesday, please visit:  https://acnuk.org/our-campaigns/redwednesday/