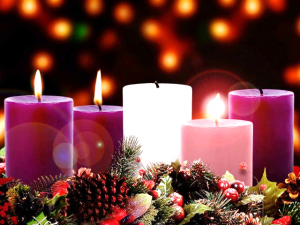 GAUDETE SUNDAY
Today is Gaudete Sunday (the Third Sunday of Advent) when we light the rose coloured candle in our Advent wreath. This is a day of light and joy in the Advent journey. We rejoice and are glad for the approaching feasts and for the coming of Christ.

CHRISTMAS & NEW YEAR MASS TIMES
Cards with Mass times for Christmas and New Year are available at the back of church. Please take one and refer to it—to avoid any confusion over the festive season! At the back of church there are also free parish diaries and some free newspapers.
NEW SOUTHGATE JOINT CAROL SERVICE
The joint Carol Service for Our Lady of Lourdes Parish and St Paul's CoE Parish will take place today (Sunday) at 6.30pm in St Paul's Church, Woodland Road, New Southgate.

PRIMARY SCHOOL FORMS
Fr David will be available again on Saturday 8th January for any further paperwork to be signed, 5pm-6pm. There is no need to sign up for an appointment.

OUR LADY OF LOURDES CATHOLIC PRIMARY SCHOOL
The school currently has spaces in Reception. If you are interested please contact the school by telephone on: 020 8361 0767 or by email to: This email address is being protected from spambots. You need JavaScript enabled to view it. For more information please visit the website: www.ololschool.enfield.sch.uk

GIFT AID
If anyone would like to offer Gift Aid (the tax you have paid on the amount you give the parish can be reclaimed from the tax office) please enquire at the Parish Office for a standing order form or a planned giving box.  Thank you.

GIFT AID CLAIM
We are currently in the process of making the claim for 2020/21, but we need to know if anyone has either moved house, and/or stopped paying income tax during that year.  Please send an email to the Parish Office if this applies to you.  Thank you.

CHRISTMAS PAPER SHOP
We have some more religious Christmas cards and a new supply of Church Art calendars for 2022.  There are also some unclaimed prizes from the Christmas Market— last week to claim!

NEW SOUTHGATE PARISH FOOD BANK
The food bank is now operating from St Paul's CoE Church Hall on Wednesdays 2.30pm-4pm. No vouchers or referral needed. Tea/coffee at the same time at the 'World Café'.   Fr Matt would like to thank you all for your support throughout this past year.

HEALTH & SAFETY
Please note that face coverings are now required again in churches, unless you are exempt. Please be respectful of those who may want to keep a distance. Thank you.

CONFESSIONS BEFORE CHRISTMAS
Saturday 18th December 3 pm.
Wednesday 22nd December after the 10 am Mass.
Thursday 23rd December after the 10 am Mass.

CHRISTMAS POSTERS
Available from the back of the Church. Please take one home today to display in your window.