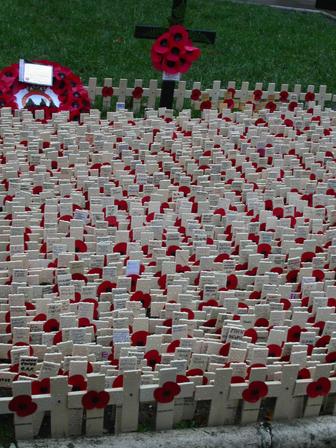 REMEMBRANCE SUNDAY
Today is Remembrance Sunday. We welcome members of our uniformed groups to the 10am and 11.15am Masses for our parades in remembrance of the fallen. RIP.

TWO INSTALLATIONS
Fr Andrew Bowden will be installed this Friday evening as Parish Priest of Poplar at Ss Mary's and Joseph's Church, Poplar, at 7pm by Bishop Hudson. Fr Jerome will be installed as Parish Priest of St John Vianney, West Green, on Friday 15 December at 7pm by Bishop Sherrington. All welcome to both celebrations.
THANK YOU
Thank you to everyone who came to say farewell and thanks to Fr Jerome on Saturday. He sends his own thanks and best wishes to you all.

BRIDIE DONAGHY RIP
Bridie's funeral will be on Friday 24th November at 10am. She will be received into the church the evening before at 6.30pm. May she rest in peace.

WILLIAM (LIAM) ALLEN RIP
Liam's funeral will take place on Thursday 23rd November at 10 am.  May he rest in peace.

RCIA COURSE
The first RCIA will take place on Monday 20th November at 7.30pm in the Small Hall.

ST CECILIA'S DAY CONCERT—HERE!
There will be a short concert in church on Wednesday 22nd November at 7.30pm given by Peter Coleman (Baritone) accompanied by Deacon Ian (his father). All are welcome; the music will be by English composers George Butterworth, John Ireland and Herbert Howells, and admission is free. All are welcome to come and celebrate the feast of St Cecilia, patron saint of music!

CATENIANS
Today (Saturday) at the 6pm Mass we will pray for the deceased members of the Catenians, and welcome Catenians and their families who join us.

SUNDAY MASS TIMES
As announced, please note that from Sunday 3 December, the 8.45 Mass will revert to 8.30am, and the 10am Mass will revert to 9.45am.

CHRISTMAS MARKET
Everyone is welcome to visit this year's Christmas Market! It takes place on the weekend of 18th/19th November after ALL MASSES. We welcome prizes for the raffle, Christmas gifts and jewellery for the Sale. Any bakers?  Home made cakes welcome on the day! Get your Christmas shopping done here! Proceeds from the Sale will go towards candlesticks for the altar.

ACN RED WEDNESDAY—ROSARY CAMPAIGN
If you believe in the power of prayer, imagine the impact of 100,000 Decades of the Rosary prayed devoutly for hundreds of thousands of persecuted Christians in Africa. We invite you to be part of a Rosary campaign for our parish to pledge rosaries towards the 100,000 rosaries, following "a vision of Christ, by Bishop Dashe Doeme (Nigeria) who declared the Rosary as a spiritual 'weapon' against the onslaught of violence by terrorist group, Boko Haram!"  The rosaries can be said in your own time at home, work, or you can join us to pray on Sundays in the church at 8am or 10:55am. To pledge Rosaries please fill in the form at the back of the church.

ACN RED WEDNESDAY NOVENA
We also invite you to join us to pray a Red Wednesday novena on Zoom from 13th- 21st November, daily at 8:30pm. Meeting ID: 724 2400 5884  Passcode: 3YAbJ0
Please contact Louisa 07920 856664 if any problems logging on.
An ACN novena will also be available at: www.acnuk.org/redwednesday For further information about how you can Break the Silence on Christian persecution in Africa, please see leaflets and posters in the porch . Please come on 22nd November to our parish Mass at 10am, St George's Cathedral, Southwark, from 5:45pm & order the Religious Freedom in the World report 2023 at https://acnuk.org/resource/acns-africa-update-religious-freedom-in-the-world-report-2023/ 

OUR LADY OF LOURDES SCHOOL CHRISTMAS FAIR
2nd December 12noon—3pm.  Please come and support our School. There will be a range of stalls, Santa's Grotto, homemade cakes, raffle and much more.  All welcome.

SICK AND RETIRED PRIESTS COLLECTION
Thank you for the generous total collection of £1,766.38.